Dane Pritchard
Advocate for Truth & Transparency
CANDIDATE QLD STATE ELECTION,
Nudgee, 31st October 2020
Dane was born in Brisbane and was raised in Chermside. A dedicated Father of two young boys, he is intensely passionate about the future health, opportunities and prosperity of all Australian children, with a strong focus on mental health.
Dane has spent the last 10 years in the transport and logistics industry and has gained a comprehensive understanding of the supply chain of Queensland, specifically the South East. Dane says, it is critical for the success of the State and its people that there is an efficient supply chain. It is up to government to support and assist small to medium business owners that are involved in the supply chain in any way, either via subsidies or tax cuts.
Dane's own personal experiences surrounding vaccines led him to independently investigate the efficacy and safety in the pharmaceutical industry and now strongly advocates for healthier communities in Queensland through the means of truth, transparency, economic opportunities and freedom of choice.
Dane opposes the suppression of information in Local, State and Federal Government and believes the ever-increasing intrusions into the private lives of Australians is completely unacceptable and unnecessary.
A word from Dane…
"The foundation of all-round healthy communities is economic opportunity. I'm done seeing the relentless economic attack on our rural communities and the larger Queensland community as a whole. The redistribution of wealth from Queensland communities to large international corporations that have no loyalty to this land or its people, will ultimately be our demise."
DONATIONS:
Bank: ANZ
Account Name: Dane Pritchard
BSB: 014219 | Account No.: 321200468
HOW TO VOTE:
We know that the major parties are not on board with supporting our policies, which therefore make it impossible for us to suggest a preference. As a result, we have decided to leave it up to you, the voter, to select your preference after adding number 1 next to our IMOP candidate. Alternatively, you can reach out to your candidate, to ask them who they would suggest as a preference in their electorate.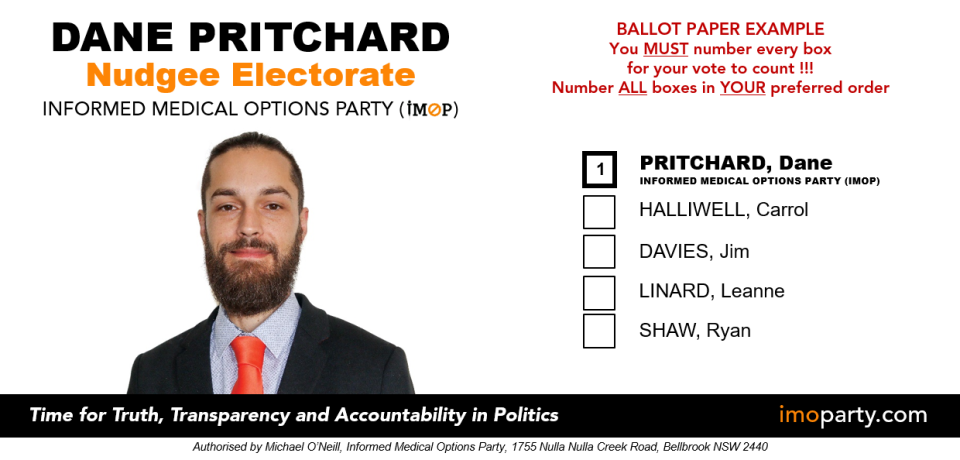 IMPORTANT INFORMATION ABOUT VOTING:
Pre-polling voting booths will be open from 19th October. A list of locations can be found here.