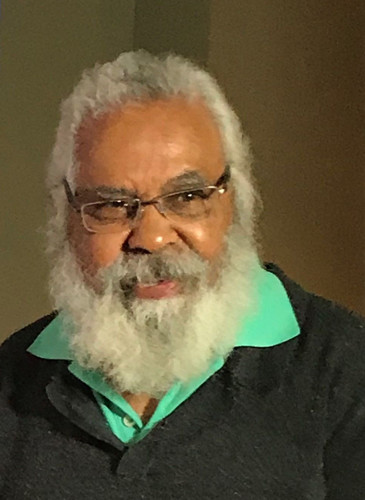 Max (Dulumunmun) Harrison
Max (Dulumunmun) Harrison is an Aboriginal elder of the Yuin nation from the South Coast of NSW, who resides in Sydney. Max is a highly respected teacher and leader in all aspects of Aboriginal culture. He is passionate about educating both indigenous and non-indigenous Australians, through his generational knowledge and understanding of all aspects of his culture.
Max is author of the book, 'My People's Dreaming,' which is a text studied at Wollongong University and has wide readership throughout Australia and the world. Max is an international traveller and has attended many gatherings and conferences of indigenous people from all around the globe. He is currently lecturing at the University of Technology in Sydney and continuing his work as custodian of the sacred Gulaga mountain on the south coast of NSW.
Max has a lifetime commitment to Aboriginal health issues and is deeply concerned about the imposed vaccination schedule for indigenous babies, children and young people, due to the erosion of cultural health practices and the lack of human rights. He is also a strong advocate concerning the impact of vaccinations on the future generations of all healthy Australian children because of the serious adverse reactions that he has witnessed in members of his own family.

Max is cultural advisor on health and cultural-related issues for the IMOParty.

Max believes that where there is the risk of harm, there must be choice.