URGENT independent overhaul of government power NEEDED
The prolonged 'imprisonment' of many Australians until most of the nation is vaccinated is the most irresponsible action by government so far. On par is the recent decision to vaccinate adolescents. Let us explain the reasons why.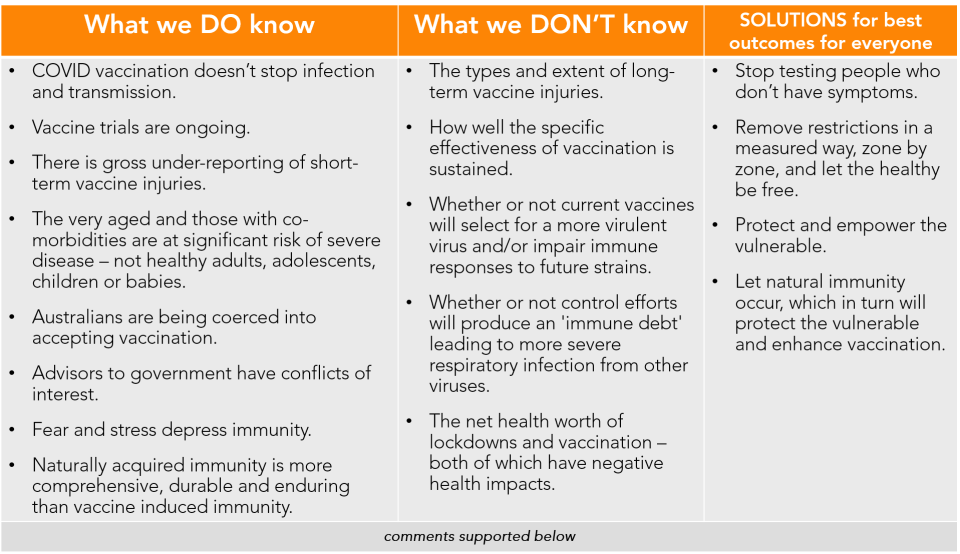 So let's dig a little deeper.
1. How reliable is the Therapeutic Goods Administration (TGA)?
The Pfizer and AstraZeneca vaccines to this point are ONLY 'provisionally' approved by the TGA [1] and have never been fully approved as our government falsely declares [2], which is the basis of coercion.
The Pfizer [3] and Astra Zeneca [4] vaccines are still undergoing trials, which are thus incomplete, and therefore it is too early to determine the short to long-term adverse health consequences [5]. However, these may never be determined because trial subjects given a placebo are offered vaccination well before completion of the trials [6].
According to TGA reports, ALL of the clinical trials used for their assessments were conducted by vaccine manufacturers and developers and NONE were independent [7], [8], including those informing the recent 'provisional' approval for use on adolescents (conducted by Pfizer) [9]. This same report refers to the use of the Pfizer vaccine on children aged from six months to 12 years, in a clinical trial conducted by BioNTech SE / Pfizer [6].
Monitoring and reporting of adverse events is inadequate [10]. For example, a very small fraction of the total vaccinations is being monitored [11], and only for a short time – maximum 42 days [12]. According to US cardiologist, Prof. Peter McCullough, three to six months after their vaccination, he sees patients with newly developed chronic diseases – neurodegenerative or cardiac disease [13].
2. Can we trust The Doherty Institute?
The government uses The Peter Doherty Institute modelling to inform their response to COVID-19 [14]. Recently Prof. Jodie McVernon also used their modelling to inform her recommendation to vaccinate adolescents [15].
The Peter Doherty Institute is also in collaboration with the Vaccine and Immunisation Research Group (VIRGo) / Murdoch Children's Research Institute [16], which has received funding from vaccine manufacturers GSK, Janssen, Merck, Novavax, Sanofi and Sequiris [16].
Prof. Jodie McVernon, spokesperson and researcher for The Peter Doherty Institute for Infection and Immunity, COVID-19 Research [17] also has conflicts of interest with Pfizer and other vaccine manufacturers [18].
3. Can we trust advice from conflicted medical officers?
Government uses incentives for doctors [19] to vaccinate, promote and advertise vaccination and restrictions BUT penalises doctors who disagree with government policy or actions [20]. Government should seek advice from a broad range of relevant opinion, such as doctors from the COVID Medical Network who are often critical of government measures and recommendations [21].
4. How well do COVID vaccines work?
We are in a country with very low COVID exposure and COVID illness and only a short history of COVID vaccine use. So the experience of COVID and COVID vaccination in other countries may help to answer that question. For example:
ISRAEL
Has a high vaccination rate and exposure. "The Health Ministry had reported earlier this month that the Pfizer vaccine was only around 64% effective at stopping coronavirus infection with the Delta variant, compared to 95% against the original strain – and perhaps even less." [22]. Data produced by the Israel Ministry of Health is consistent with poor efficacy [23].
UNITED KINGDOM
As they call for an end to mass testing, scientists warn that the Delta variant has wrecked hopes of vaccination producing herd immunity and that "there is no way of stopping SARS-CoV-2 spreading through the entire population". [24]
USA
It may be that in the short-term COVID -19 occurs less often in fully vaccinated people, BUT on 27th July 2021, the CDC stated (Note: CDC owns patents on some vaccines [25]), "Fully vaccinated people with Delta variant breakthrough infections can spread the virus to others" and "the Delta variant seems to produce the same high amount of virus in both unvaccinated and fully vaccinated people… [but] the amount of virus produced by Delta breakthrough infections in fully vaccinated people also goes down faster than in unvaccinated people" [26]. Another study indicated similar conclusions [27].
A clear example from a recent outbreak in Massachusetts showed that among five COVID-19 patients who were hospitalised, four were fully vaccinated [27].
Could it be that those who cannot respond well to the virus also cannot respond well to the vaccine?
[28]
FRANCE
French Nobel Prize winner, Prof. Luc Montagnier states, "Mass vaccinations are a scientific error as well as a medical error. It is an unacceptable mistake. The history books will show that, because it is the vaccination that is creating the variants." [29] In other words, "Vaccination along with other impediments (social distancing, masks) to virus transmission may facilitate the rise to dominance of new and more virulent or transmissible variants." [30]
5. Too many unknowns to justify the drastic measures?
The long-term side effects are unknown.
Prof. Montagnier states, "We're in unknown territory and proclaim mandatory vaccines for everyone. It's insanity. It's vaccination insanity that I absolutely condemn. I want to say as well, that I never, never said that everyone will die from the vaccine, but that a certain amount of people who take the vaccine will suffer from it. That's impermissible." [31]
Once the elderly and others with co-morbidities are vaccinated, there is little reason to vaccinate the remaining healthy young and adults. This is because vaccines are harmful [32] and the remaining population is at low risk of severe disease [33], that is, they are at high risk of asymptomatic or mild infection and consequent acquired natural immunity.
6. What about natural immunity?
In Israel, naturally induced immunity from infection (with or without symptoms) is more comprehensive and enduring than vaccination induced immunity [34].
As stated by the very pro-vaccination Prof. Robert Booy: "This resilience of healthy children begs the question of whether they need to be routinely vaccinated against COVID-19." [35]
Vaccine herd immunity is impossible because:
vaccination does not stop transmission, as seen with the Delta outbreak in Singapore [36] and Iceland [37] and other countries (as mentioned above).
a recent study in Vietnam examined Delta breakthrough transmissions between vaccinated people [38].
vaccination MAY provide only a short-term and precarious immunity [28].
7. Conclusion
Why impose draconian measures that impact ALL Australians financially, physically and mentally, and destroy businesses, not only for the short term, but also for the long term?
To vaccinate healthy people to protect the vulnerable is unreasonable when the vaccinated can be infected and infect.
Given that the greatest risk is to those with co-morbidities, most of which have been preventable but endemic and increasing for more than 50 years, why has government not used draconian measures to prevent those illnesses; not spent hundreds of billions on preventative health education and 'incentivisation' nor signalled an intention to do so? Not even during 'COVID times' – when advertisements promoting junk food and misuse of medications have continued to flourish, making Australians more vulnerable to infections of all kinds. THAT is the great, irresponsible selfishness [39]. It is often co-morbidities that turn SARS-CoV-2 infection into COVID-19 – the illness.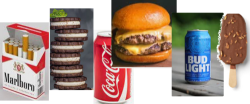 BETTER SOLUTION? As vaccination does not stop transmission of the virus and the healthy are not at risk of developing severe illness, why not allow natural immunity amongst the healthy? This would, in contrast to vaccination induced immunity, have the benefit of a longer and more comprehensive immunity that better protects the vulnerable from viral transmission.
Dr John Gerrard, an infectious diseases physician from the Gold Coast University Hospital, has stated, "But what we can at least do with the vaccine – and this is critical – is protect people from getting serious illness. If the virus transmits like a normal respiratory virus and doesn't cause serious illness, then that's not a problem. In some respects, it might be a good thing because mild COVID infections might induce more immunity in the population." [40]. However that effect (induction of more immunity in the population), would be even greater as a result of transmission from the unvaccinated. When infected, they too are likely to experience mild illness or remain asymptomatic.
So, with the majority of the elderly and those with co-morbidities vaccinated, and with a claimed good chance of thus preventing severe illness in those vulnerable groups, it would only be fair and just that healthy members of the population could choose their own protection from severe disease, either via vaccination or via their natural immunity, WITHOUT vilification, coercion or restrictions, that is, without the risk of triggering immune compromising stress and fear [41].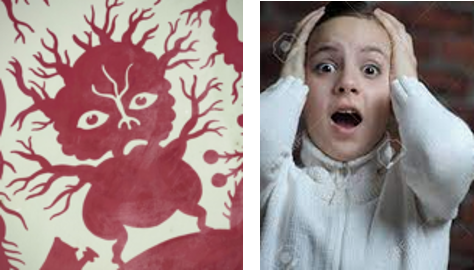 And finally, we demand an URGENT independent investigation into government overreach, conflicts of interest and unnecessary, counterproductive fear-mongering, as well as a moratorium or injunction on any further jabs until the investigation is completed.