New IMOP logo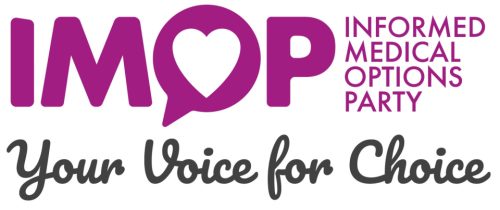 The Informed Medical Options Party (IMOP) is excited to unveil its new logo in the lead up to the next election. The new design features a fresh new colour, purple, and incorporates a heart graphic that symbolises the party's future focus on health, the environment, accountability, rights, and transparency. This new logo is a reflection of the party's commitment to medical choice, informed consent, and health freedom, which are at the core of IMOP's policies and beliefs.
IMOP's new slogan, 'your voice for choice', represents the party's commitment to providing Australians with the power to make informed decisions about their own health and well-being. It emphasises the importance of giving individuals a say in their own medical treatment and promoting transparency in the healthcare system. Additionally, it also represents the party's commitment to giving Australians the right to speak up, be heard, and have a real choice when it comes to healthcare issues. To illustrate this voice, the heart in the logo is encapsulated in a speech bubble.
In addition to the new logo, IMOP is also considering a name change that better represents the party's policies and what we stand for. However, due to time constraints, this change was not able to be approved in time for the next election. Nonetheless, the new logo represents a step forward for the party and will be a visible representation of our values and beliefs to the public.
IMOP is excited to get the new logo out there and hopes that it will help to raise awareness of the party and its policies. The party believes that the new design will resonate with voters and help to convey the party's commitment to medical choice, informed consent, and health freedom. The new logo is a symbol of IMOP's commitment to building a brighter future for all Australians.