Who controls vaccination education?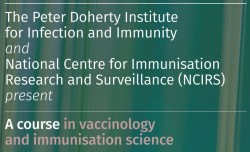 (Screenshot taken from the course material [2])
Over the years, we have exposed serious conflicts of interest (COI) in the formulation of vaccination policies in this country (1). We have discovered that a new online course to educate the public on vaccination and its science [2] is being delivered by the very individuals and organisations that receive funding from vaccine manufacturers.
We of the Informed Medical Options Party find this extremely disturbing. We consider it our duty to inform the public of the serious issues within our government health departments, and to identify those who influence and control vaccination policies, as per our detailed COI press release [1]. None of the COI information below is mentioned in the advertisement for the course.
For example:
The Vaccine and Immunisation Research Group (VIRGo)
advises government on vaccination policy and vaccine use. It is a collaboration between
The Peter Doherty Institute
and
The Murdoch Children's Research Group.
VIRGo has received funds from
vaccine manufacturers GSK, Janssen, Merck, Novavax, Sanofi
and
Sequiris
.
The
National Centre for Immunisation Research and Surveillance (NCIRS)
disclosed in 2016 that its clinical research group undertakes a mix of investigator driven and
industry sponsored research
, including studies supported by
vaccine manufacturers
. Many members of their advisory board also has conflicts of interest.
Module 1 of this course is moderated by Pr
of. Terry Nolan and Prof. Peter McIntyre.
Prof. Terry Nolan
is currently head of the Vaccination and Immunisation Research Group (VIRGo), which he established in the 1990s at the Murdoch Children's Research Institute. VIRGo has received funding from
vaccine manufacturers GSK, Janssen, Merck, Novavax, Sanofi
and
Sequiris.
In 2009, during his employment with the Australian Technical Advisory Group on Immunisation (ATAGI), Prof Nolan was the lead investigator on the
CSL-funded
Panvax (monovalent H1N1) influenza vaccine trial conducted on 400 children. He was also on the
CSL Limited
vaccine advisory board.
In 2009, CSL was given a $131 million federal government contract to produce the nation's entire stockpile of swine flu vaccine, half of which had to be destroyed when it passed its use-by date.
In 2010, CSL's Fluvax (trivalent) Influenza vaccine was suspended for use in children six months to five years of age, due to a marked increase in febrile reactions following vaccination. The TGA's epidemiological investigation into that seasonal flu vaccine debacle was led by Prof. Nolan and Prof. Peter Richmond, who were both on CSL's advisory board.
In 2010, Prof Nolan published a report titled 'The Australian model of immunisation advice and vaccine funding', wherein he stated (in respect of conflicts of interest), "involvement in industry-sponsored vaccine research where payment is made to an institution and not to the individual is generally not considered a conflict requiring exclusion." [!]
Prof. Peter McIntyre
, formerly Director of NCIRS (2005–2017), was associated with
industry-sponsored
vaccine research. The 2015 ATAGI Declarations of Interest document stated that Prof. McIntyre was associated with grant funding from
GSK, Pfizer, Merck,
National Health and Medical Research Council and ARC.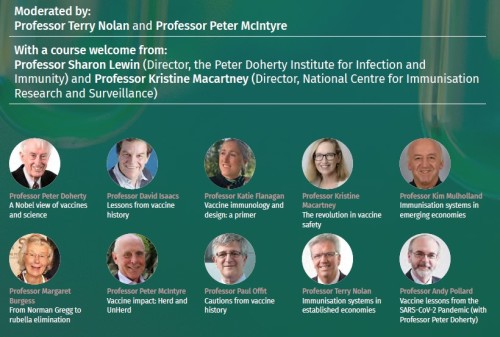 (Screenshot taken from the course material [2])
Prof. David Isaacs was a member of the government's Pharmaceutical Benefits Advisory Committee (PBAC). The Pharmaceutical Benefits Scheme (PBS) schedule lists all of the medicines available to be dispensed to patients at a government-subsidised price. The PBS/PBAC receives funds from cost recovery fees and charges from vaccine manufacturers. During the period of Prof. Isaacs' PBAC membership, he was co-author of the British Medical Journal article, 'Introducing a new group B meningococcus vaccine.'
In the last 10 years,
Prof. Katie Flanagan
has been involved in research projects awarded in excess of AU$30 million, which includes grants from NHMRC and the
Bill and Melinda Gates Foundation
. She was a presenter at a number of conferences on clinical infectious diseases sponsored by
vaccine manufacturer Pfizer.
Prof. Kristine Macartney
is Director of the National Centre for Immunisation Research and Surveillance (NCIRS). She presented at an international vaccine conference, for which her
travel was sponsored
. She is also a member of many ATAGI Working Groups including COVID-19 Working Group, which provides advice to the Minister for Health on the immunisation program for COVID-19 vaccines as they become available in Australia.
Prof. Andrew Pollard
is one of the lead developers of the
AstraZeneca/Oxford COVID-19 vaccine
and yet he is also the Chief Investigator for the conduct of the trials. He was also Chief Investigator of the Bexsero meningococcal B vaccine trials, previously owned by
Novartis
and now owned by
GSK
. He is Chair of the Joint Committee on Vaccination and Immunisation (JCVI), which advises U.K. health departments on immunisation; Director of the Oxford Vaccine Group (OVG), which received funding from
vaccine manufacturers
for their trials; Professor of Paediatric Infection and Immunity at the University of Oxford, which has significant financial influence from the
U.K. Vaccine Manufacturing and Innovation Centre
and past chair of the European Medicines Agency's Scientific Advisory Group on Vaccines (SAG-V), Like the TGA and PBS in Australia, the European Medicines Agency levies cost recovery fees and charges on the
pharmaceutical industry
– one of its main stakeholders.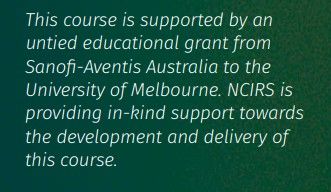 (Screenshot taken from the course material [2])